TESTIMONIALS
Thanks for kicking my ass! It's the best workout in town!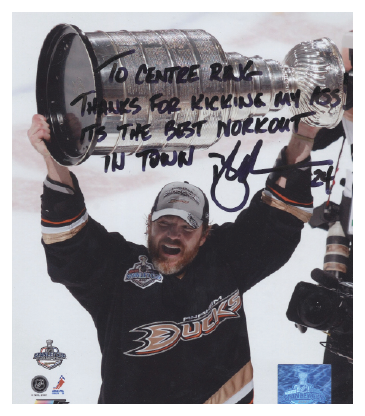 Wayne, thanks for knowing exactly how to push me so that I continue to get great results.
Marnie McBean
Three Time Olympic Gold Champion Rower
As a hockey player, working with Wayne during the off-season and doing his workouts has really helped me to improve my overall fitness/stamina and at the same time my reaction time and co-ordination. He always pushes me in a positive way to get the most out of me during workouts. Thanks for all the help Wayne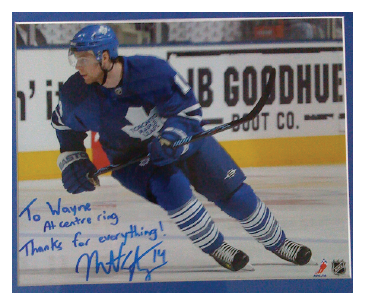 Matt Stajan
Calgary Flames
I love Wayne's boxing classes. It's a great way to get a whole body work out in just 1 hour. Wayne knows how to kick your butt the good ol' fashioned way with sets of skipping, sit-ups, push-ups, hand weights and challenging rounds of boxing. I like to go with friends so I can watch them suffer (in a good way) right along with me.
Karen Stemmle
Olympian Alpine Skiing
Wayne brings great spirit and enthusiasm to every class. The camaraderie is incredible--young, old, men, women, of all sizes, for the next hour, we are in this class together, let's play and have fun! Your body changes, and your mind changes too. In the same way that boxing no longer seems impossible (or out of character) as it did a year ago, other once impossible-to-solve problems now seem workable. I will work those problems down, one jab at a time.
Jeff Pellarin, President
Forensic accounting firm.
Unlike other gyms I have been to, Wayne Bourque's Centre Ring is the only gym in the area that has a coaching staff completely comprised of competitive (or formally competitive) athletes who have the experience and "know how" to ensure that you will benefit from working with the best. This gym is fantastic. The facilities are great -- but it's the people that make it special. I called and asked for private lessons, and I wound up working with Carlos Varela. He is an amazing trainer --he pushed me to limits I didn't know I had, I learned an amazing amount, and I really cannot recommend him enough. I've worked with quite a few trainers in my time, Carlos is, hands down, by far the best. The gym is small, but it has everything you need. It's clean, the people are extremely friendly, there are no egos. This isn't a work-out-in-your-own-world-and-read-a-book-at-the- same-time kind of gym. This is a place to go to get a real, serious workout, to get better, stronger and more fit, alongside a bunch of professional and/or dedicated people who will cheer you on if you work your ass off, and won't let you get away with being a baby. I feel like I got a lot more than just physical workouts here -- I worked hard, pushed myself, and I got more confident as well as in better shape. I really can't recommend this place enough. Sign up for a class, you won't regret it.
I have worked with Wayne Bourque for 20 years, both boxing and weight training and am extremely grateful for all that he has done for me. Wayne and his gym make up a large part of my life for both physical and mental fitness. The workouts that we do are always innovative and the best that I have ever had with never a dull moment and being physically challenged has helped enormously with the everyday stress of life. I hope that for the next 20 years, and beyond, I will be able to continue my physical training with Wayne and Centre Ring. I have always admired the pride that Wayne takes in his work environment, he runs a gym which is disciplined, well organised and yet a pleasure to spend time in. I would not hesitate to recommend Wayne and Centre ring to anyone regardless of fitness level or whether they had even tried a workout before. Everyone is safe in his hands.
I've been a Centre Ring member for 20 years and it has been the best thing I have ever done. It is the only workout that ever physically changed my body. My full body workouts at Centre Ring are the only workouts I need, I don't have to do anything else to stay fit, healthy, and in top shape. My workouts have become just a natural part of my life. Wayne is an encouraging, upbeat, and enthusiastic instructor. I always feel welcome and he makes me want to keep up with the program. Centre Ring is a sweaty gym that produces fantastic results, not one of those princess gyms.
Connie Braemer
Interior Designer
Wayne Bourque's boxing classes are the best workout available. After almost 15 years of doing these classes several times a week, they are still physically challenging and never boring. I have also made great friends at Centre Ring. No matter what your fitness level, Wayne is welcoming and a patient teacher. I don't know what I would do if I could not box!
Carole McAfee Wallace
Lawyer
Wayne Bourque's fitness training sessions are amazing. Wayne's knowledge, skill and enthusiasm have been instrumental in giving young athletes the conditioning and confidence they need to get to the next level.
Paul Forbes
Director of Athletics St. Michael's College School
I enjoy training with Wayne at Centre Ring. I find he creates an excellent atmosphere for me to achieve and surpass my fitness goals. I would recommend him to anyone who wants to really get in shape and stay in shape
Training with Wayne is one of the highlights of my week! Profuse sweat, some good laughs and reaching the brink of exhaustion keeps me healthy and happy!
Andres Gantous, MD, FRCS, (C)
Every once in a while someone comes along that has a positive effect on one's life, Wayne Bourque has been one of those people for me. My first encounter was not with Wayne, but with his wife Carol, who answered the phone when I called Centre Ring. I'd been looking for a place to work out, but with an emphasis on the upper body. I thought about boxing, went on line, and came across Wayne's website and made the call. Carol listened intently and was very reassuring. She told me that Wayne was really a great guy, a professional in his field, a caring and understanding person. She said that I should just drop into the club and have a chat with him. I did that and I haven't looked back. Everything that Carol said about Wayne was absolutely correct. If you want a place where you can go and get a complete workout, and I mean complete, then look no further.
About three years ago I wandered off the street into Wayne's gym. I was looking for a trainer to help me build up my cardiovascular power — a tough order since I have hip problems that stop me from running and most sports, and I hate swimming. So I've been having private sessions with Wayne a couple of times a week since then — boxing combinations plus mat work and weights. I always work up a great sweat and end up exhausted. I'm no athlete, but now I have a resting heart-beat under 50 and can throw over 500 punches in three minutes. How many 70-year-olds can say that? And we laugh a lot. Thanks, Wayne.
I've been exercising for the last 25 years of my life to maintain an active and healthy lifestyle. It wasn't until I started to box with Wayne Bourque at Center Ring that I noticed a dramatic change in my body. I had gone from being thin and somewhat scrawny to toned and cut. I now feel strong, sexy, and ready to take on anything that life may throw at me. Not only have I achieved my fitness goals and the body I've always wanted, I also found an amazing place where Wayne inspires me and makes me want to keep coming back for more. I owe this all to Wayne. Thanks to him, I no longer dread going to the gym.
Margie Doyle-White
Host of Take This House and Sell It Dixon Doyle Design
I joined Centre Ring in 1995 and since then have dedicated four or five days a week to training with Wayne. His boxing class is the best workout anywhere and the club's friendly atmosphere makes it a great place to be.
Mark Nusca
VP Porter Novelli
I go to Wayne's boxercise twice a week and have been doing so for about 10 years now. It's a great all over workout that has helped me keep in shape. Thanks Wayne!!
I am a 52 year old mother of 3 and I'm a grandmother to a 5 year old. I started working out at Centre Ring two years ago. I lost 20 pounds and have kept if off without dieting. I feel much stronger, have more energy, better muscle definition, and greatly improved fitness. I enjoy the stress relief and fun of boxing. It's never a chore to go to the club because I have such a good time there. Wayne Bourque is motivating and fun. It has become an important part of my life!
I have been going to Centre Ring for just over a year and love it! I just went out and bought new jeans and they were 3 inches smaller than the pair I was wearing. It is all thanks to Wayne and his Boxercise Class. It is a very friendly place to workout. The kind where everyone knows your name. I had a membership at a fitness club for a few years. Then did some Bikram hot yoga, until I hurt my knee doing one of the moves. Fifty was fast approaching and I needed to start looking after ME. My friend kept telling me about Centre Ring. I decided to give it a try. I haven't looked back. It is a great all around workout that is always challenging. I am in the best shape I have been in years. Thanks Wayne!